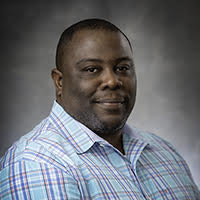 NEWS RELEASE                                                                                                                                        
For more information, contact:  Desi Ledbetter, 501-340-8787; desi@regionalrecycling.org    
LITTLE ROCK, Arkansas (Monday, December 27, 2021) – The Regional Recycling & Waste Reduction District has hired William El-Amin as the new Environmental Officer for Pulaski County. El-Amin's responsibilities will include supporting other environmental officers in the district's tire recycling program, which encompasses Clark, Faulkner, Garland, Hot Spring, Lonoke, Monroe, Prairie, and Saline Counties.
Environmental Officers are trained and certified by the state and receive continuing education to fulfill the responsibilities of identifying and investigating illegal dumping, including tire dumps, as well as illegal and improper solid waste disposal. Officers write citations for violations and work with municipal code enforcement officers and county sheriff departments in the enforcement of environmental laws concerning illegal dumping. Partnering with the Department of Energy and Environment's Division of Environmental Quality, environmental officers coordinate with the state, local jurisdictions, and private landowners for clean-up programs.
El-Amin is a 19-year veteran of law enforcement, having held the position of Chief of Police in Eudora and Gould, Arkansas; sergeant in the Arkansas Department of Correction; field training officer for the University of Arkansas at Little Rock Police Department; and first responder. He is a 2014 graduate of the Arkansas Law Enforcement Training Academy and a 2001 graduate of the University of Arkansas at Pine Bluff.
Suspected illegal dumping activities in Pulaski County may be reported to William El-Amin at william@regionalrecycling.org.
Craig Douglass
Regional Recycling District
300 Spring Bldg., Ste. 200
Little Rock, AR 72201
Voice/Text: 501-580-1608
Email: craig@regionalrecycling.org