NOTE:  The

School Workshop

scheduled to take place on Monday, September 19, has been canceled.  Sorry for any inconvenience this may have caused.  Everything else scheduled during the 26th Annual ARC Conference  will take place as scheduled.
Attention Solid Waste License holders – Need CEU credits for the year?  Attend the 2016 ARC Conference and you can get the 6 credits required for the year.   SWANA CEU's will also be available.
Questions, call the ARC office – 866-290-1429
Arkansas Recycling Coalition Conference & Trade Show
"Advancing Sustainable Materials Management"
Sponsorship Opportunities | Exhibitor Registration | Attendee Registration | Program at a Glance | Pre-Order T-Shirt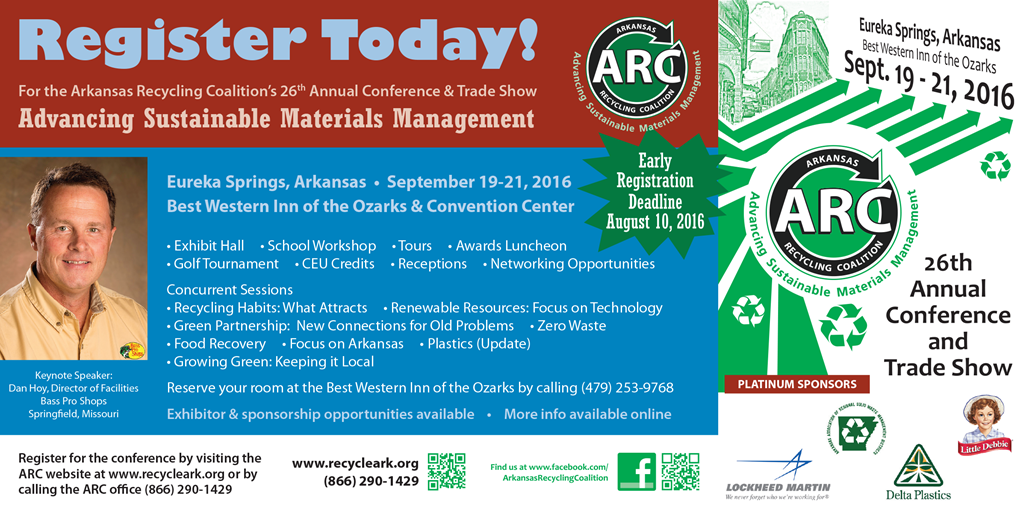 Mark your calendar to attend the 26th Annual ARC Conference & Trade Show set for September 19-21, 2016 at the Best Western Inn of the Ozarks in Eureka Springs, AR.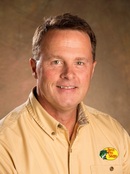 Meet Mr. Dan Hoy with the Bass Pro Shop based in Springfield, MO. We are honored to have Mr. Hoy as our 2016 Conference Keynote.
Ever wonder when driving over the Mississippi River Bridge into Memphis what was taking place inside that giant Pyramid? Well, we are about to find out, as well as about, Bass Pro's recycling and sustainability programs throughout the Bass Pro family of operations.
The conservation ethic runs deep at Bass Pro Shops and permeates every aspect of business operations, including facility management. Mr. Hoy, Bass Pro Shops Director of Facilities, oversees facility operations for the company. In a career spanning 34 years at Bass Pro Shops he has had a hand in developing a comprehensive facility management program rooted in resource conservation and sustainable operations.
Preventive maintenance, live exhibits, environmental compliance, energy management, pollution prevention and waste management are key components of Bass Pro Shops' facility management program. The company's waste diversion efforts are recognized by USEPA's Waste Wise program and by the Missouri Recycling Association as recycler of the year. Dan will share how Bass Pro Shops' long standing commitment to conservation has been a cornerstone of the company's success.
Other noted presenters from around the state and country will be on hand to participate in several breakout sessions (see sessions list below)
Monday (9/19) 
A Golf Tournament taking place at the Holiday Island Golf Course with registration starting at 9:30
AM with shotgun start at 10:00 AM.
School Recycling Workshop from: 9:00 AM – 3:30 PM.  Lunch will be furnished!  Scroll to bottom for Agenda and Description of Workshop. 
Tire Workshop (flyer) from:   1:00 PM – 4:00 PM.  To register you must call Liz Hoover at ADEQ (501-862-0585)
Tour #1 will start boarding at 10:30 AM. The first stop will be at AERT's manufacturing facility in Springdale. The second stop will be at the Crystal Bridges Museum of American Art, Bentonville, returning to Eureka Springs around 5:00 PM. A box lunch will be served on this tour.  (Sponsored by the Boston Mountain and the Benton County Solid Waste Management Districts)
Exhibitor setup will be between 2:00 PM – 5:00 PM.
Tour #2 –   This will be short two-hour tour of the Turpentine Creek Wildlife Refuge located just outside of Eureka Springs where you will see big cats rescued from around the country.  Bus boarding begins at 1:30 PM at the hotel convention center.
After your golf tournament, school workshop, exhibitor setup or tour be sure to hop on the bus at the hotel for a short ride to the Rowdy Beaver for a Welcome Reception and some great fun, food and networking. (Sponsored by the AR Association of Regional Solid Waste Management District Directors)
Time: 6:00 PM – 9:00 PM.
Tour #3 – "Eureka After Dark"
For all of the late-nighters you will board the bus at the Rowdy Beaver beginning at 9:15 PM and return to the hotel around 11:15 PM. This tour includes many points of interest, including Penn Castle and Maplewood Manor. You may even see a ghost or two!
Tuesday (9/20)
7:30 AM   Continental Breakfast  (Sponsored by McKee Foods Corp)
8:50 AM   Welcome
9:00 AM   Keynote
9:45 AM   Exhibit Hall
Be sure to visit the Exhibit Hall for an opportunity to network with the exhibitors to learn about the product or services they provide or about any new product/service being introduced.
Breakout Sessions
10:00 AM – 11:30 AM
(A-1)  Recycling Habits:  What Attracts
Presenters:  Brenda Pulley – Keep America Beautiful/Leslie Lukacs – SCS Engineers/ Adam Vehick – Balcones, Inc
(A-2)  Renewable Resources:  Focus on Technology and Usage
Presenters:  Eric Boles – UofA/Others Invited
Awards Luncheon
12 Noon – 1:30 PM
This is a time when we honor our outstanding recyclers in Arkansas.
Breakout Sessions
1:30 PM – 3:00 PM
(B-1)  Green Partnership:  New Connections for Old Problems
Presenters:  John Sheerin – Rubber Manufacturers Assn/Anthony Cline – Carpet Recycling
(B-2)  Zero Waste:  A Focus on Hospitality
Presenters:  Randy Wolfinbarger – Best Western Inn of the Ozarks/Paul Devlin – Holiday Inn/Robert Phelps – Keep AR Beautiful
3:15 PM – 5:00 PM
(C1)  Food Recovery Roundtable (Panel Discussion)
Presenters:  Cameron Caja & Satoko – UofA/Michelle Shope – AR Hunger Relief Alliance/EPA invited)
7:00 PM – Until   Reception
Wednesday (9/21)
7:30 AM – 8:00 AM – Exhibit Hall Opens/Registration
8:00 Breakfast Buffet with Speaker: Will Sagar – SERDC
9:15 AM – 9:30 AM – Exhibit Hall
Breakout Sessions
9:30 AM – 10:45 AM
(D-1)  Focus on Arkansas
Presenters:  Becky Keogh – ADEQ (Reorganization Upates) Charles Miller – AEF
(D-2)  Growing Green – Keeping it Local
Presenters:  Cynthia Edwards – Dept of Agri/Others (invited)
11:00 AM – 12:15 PM
(E-1)  Plastics Update
Presenters:  Stacy Fields – Dow Chemical Company/Sandi Childs – Assoc of Plastic Recyclers
Drawings
12:15 PM  Annual Meeting
Sponsorship and Exhibitor Opportunities are available.
For lodging, call the Best Western Inn Of The Ozarks direct at (479) 253-9768.  Be sure to ask for the ARC Conference Block.
For Sponsorship Opportunities, Exhibitor and Attendee Registration click on the links below.
The Basics: School Recycling Workshop
The Basics Flyer ARC Conference
2016 School Workshop Agenda ARC Conference
ADEQ Tire Workshop